SCOTTEX PRECISION TEXTILES LTD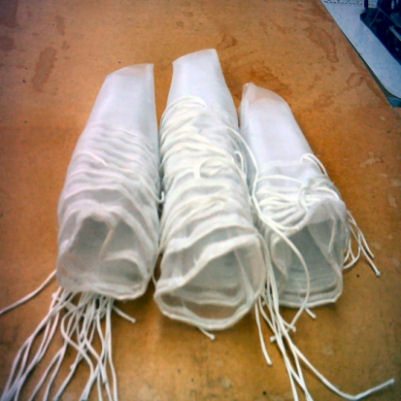 "Call us today for immediate quotation & quick delivery"
Liquid Strainer Filter Bags
Improve your filtration and improve your flow rate.
Scottex Pressure filter bags are particularly effective in the processing of adhesives, cutting oils, cleaning fluids, waxes, paints, pigments, inks, pharmaceutical, and food stuffs such as vinegar and vegetable oils.
Pressure Filter bag systems, in fact, combine all the benefits of disposable filter bags with the efficiency, safety and convenience of high operating pressures in a closed in-line system.
Particle retention sizes from 1000 micron - 5 micron in the following materials: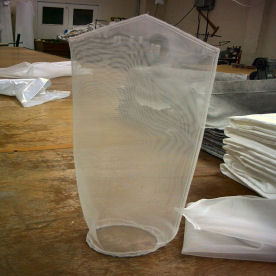 Polyester

Nylon

Viscose

Polypropylene

Aramid

PTFE
Using multifilament, Monofilament or needlefelt where applicable
Disc Filters
Used on in-line filtration systems or inside pumps.
Available in any diameter from 30mm diameter upwards.
High Strength & Anti-burst Nylon monofilament fabric from 10 micron to 2000 micron.
IBC Tank Filters
Used when pumping from one IBC to another.
Fits around the neck of a IBC normally 160mm diameter and secured with a drawstring.
Length is normally 260mm but custom lengths to suit your application.
High Strength & Anti-burst Nylon monofilament fabric from 10 micron to 2000 micron.
Filter Press Cloths
Scottex manufacturers filter press cloths for filter presses used in the separating of solids from liquids. These are available in the traditional woven filter media and now in the form of needlefelts. Polypropylene is normally used both in woven form and in needlefelts because of its excellent resistance to chemical attack and hydrolysis. Woven Nylon and Polyester can also be used.
Key Benefits
Experience with working with many different types over the years.
Wide variety of fabrics and fibre types inc; needlefelts, woven fabric, monofilament, Polypropylene, Polyester, Nylon, Viscose, etc
Small quantities a pleasure.
Quick availability.
Fitting, installation and waste disposal a specialty.
For any more information, prices or help, please contact us by either telephone 0161 763 6550, fax 0161 764 1354 or email info@scottex-filters.com