DCE UNIMASTER TYPE FILTER BAGS
"Call us today for immediate delivery & fitting a speciality"
Manufactured here in Bury.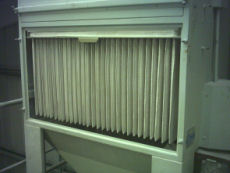 Thousands have been manufactured by us.
The most comprehensive range on sale today.
Made to withstand the most demanding of conditions.
Suitable for all different types of dusts, temperatures and emission levels.
Novel one piece construction cuts down the potential of seam splitting and improves strength & durability.
THE SCOTTEX DCE UNIMASTER TYPE FILTER BAG RANGE
UMA40 = (Minimaster, MM40) = 9 pockets

UMA70 = (UMA72,73,74) = 12 pockets

UMA100 = (UMA102,103,104) = 18 pockets

UMA150 = (UMA152,153,154) = 18 pockets

UMA250 = (UMA252,253,254) = 29 pockets

UMA350 = (UMA354, 358) = 2 x 14 pockets

UMA450 = (UMA454, 456, 458) = 2 x 18 pockets

UMA750 = (UMA758) = 2 x 24 pockets
Contact us for all Edging strips, wire inserts, shaker bars, motors, starters, new bins, door and bin seals, etc.
Available in 8 standard high specification fabric types:
135gsm Woven Cotton
350gsm Polyester needlefelt + Singed finish
350gsm Polyester needlefelt + Glazed finish
350gsm Polyester Antistatic needlefelt + singed finish
350gsm High Efficiency Polyester needlefelt
300gsm Woven Polypropylene
350gsm Polypropylene needlefelt + singed finish
400gsm Aramid needlefelt + singed finish
400gsm versions of all the above are available. Plus Special surface finishes to aid dust release and fabric protection including:
Moisture Protection Finish

Chemical Protection Coating

Flame retardant Coating

PTFE Microporous Coating

ePTFE Laminated Membranes
Unimaster® is a registered trade mark by DCE Donaldson Ltd
All Donaldson & DCE rights acknowledged and respected.
Don't leave it to chance, we have fitted hundreds and can fit these in half the time of non-experienced personnel. We take away the old filters, check air readings, check shaker systems and a full clean up.
Contact us on 0161 763 6550 for a chat about your Unimaster filter bag requirements, sensible prices, fitting and testing.